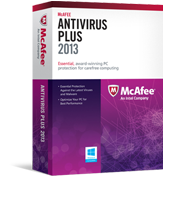 McAfee Antivirus is a longstanding program that has been around for many years, protecting computers and their users. With their new McAfee Antivirus Plus, this company takes another stab at the market by improving many of its older features and adding some interesting new ones. While some people have expressed problems with McAfee in the past—especially in 2010, when an update accidentally made the McAfee program think a Windows file was a virus, causing many Windows computers to enter a reboot loop—this company has always done its best to protect computers and correct any mistakes it made. After being acquired by Intel in 2011, McAfee has shown considerably more power in the antivirus sector. You should notice this upgrade too after noting their new program's features.
Features of McAfee Antivirus Plus
One of the best new features with this program is "Safe Searching." There are websites with viruses lurking even in search engines, and McAfee is dedicated to finding them. When you search for something, color icons will show you how safe the link is.
There is also a two-way firewall, which further protects your computer against hackers. Another thing McAfee has stepped up is its malware detection through its "Active Protection" feature. This quickly determines the risk of any possible safety hazard, so you are always safe.
Ease of Use of McAfee Antivirus Plus
When it comes to virus protection on Windows Vista or Windows 7, McAfee is a very easy program to use. Past versions of McAfee could be somewhat difficult to handle, but this newer version works painlessly. You just install it, make some small configurations for your preferences and it does all the work.
Customer Support Quality
As with most antivirus programs, customer service is usually there to help you, but you may sometimes feel a little abandoned after waiting for 10 to 15 minutes without any response. Normally after you get someone on the phone or online, they will be able to help you out with any problems. However, there are times when the McAfee staff seems a little confused about their own product. All in all, the customer support is average. It is usually helpful, but not always.
Main Advantages of McAfee Antivirus
The main advantages are the new features included in McAfee AntiVirus Plus. The search feature is incredibly helpful, because you never know when a virus will come up from a random website, and the "Active Protection" feature gives you ease of mind. If you choose this program, you should get a lot of use out of it.
Shopping and banking online are two activities that should be more convenient than worrisome, so protect your personal data with McAfee AntiVirus Plus. It keeps your identity and information safe with colour-coded search results and a high quality scanning engine. You can even visit your favourite websites while automatically blocking pop ups that could contain malicious software.
More Information
Do more online with less worry. The high performance scanning engine works in the background to keep your computer safe from viruses, spyware, rootkits, and other threats.


When you visit new websites, it's nice to be certain that they won't give you any unwanted surprises. With McAfee Dual Pro, colour-coded icons show up next to every search result, so you'll know what's safe and what's not.


Just like babysitters are great with kids, this software is great with touch-friendly devices. You can navigate through the home screen with your fingers, track pad, or mouse and get the same easy to use performance.


A vulnerability scanner constantly checks your PC for missing updates, so you always have the latest software for safeguarding your system.


A website might be safe, but those pop-up ads are another story. McAfee can automatically block suspicious or malicious ads to keep you protected.